Who enjoys the islands the most?
Families?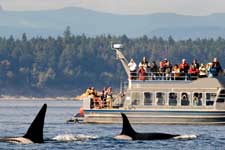 Viewing the orca whales on a whale watching tour; just one of the many family-friendly activities.
Families visiting the San Juan Islands with babies, toddlers, regular kids, or rebellious teens will have no problem keeping everyone happy. A short list of family-friendly activities includes: Horseback riding, tidepool exploring, the county fair, swimming in mountain lakes, skate parks, paddle boating, trout fishing, summer camps, lakeside campouts, driftwood fort construction, cliff jumping, mountain biking, fun houses, and whale museums. Browse family activities on Lopez, Orcas, & San Juan.
Boaters?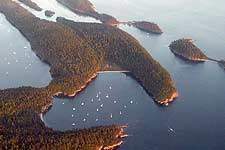 Pleasure cruisers take shelter at Sucia Island.
Every summer season power boat and sailboat owners of the Pacific Northwest set sail for the San Juan Islands. Hundreds of picturesque anchorages and several full-service marinas harbor thousands of annual return visitors. Music festivals, fireworks shows, and big money fishing derbies never fail to keep the sailors satisfied! Popular destinations include Sucia Island State Park, Reid Harbor, Roche Harbor, and Deer Harbor.
Romantics?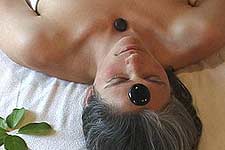 A hot rock massage from Millington massage, San Juan Island.
Imagine finding a cozy bed and breakfast, cuddling up to watch the sunset from whale watch Park, and savoring a seafood dinner on the waterfront. Couples massages, manicures, pedicures, hot rock massage, and reflexology are just some of the spa treatments on the San Juan pampering menu. Those traveling on a budget can enjoy waterfront campsites, incredible sunsets, long beach walks, and scenic ferry rides. Browse romantic options on Lopez, Orcas, & San Juan.
Food lovers?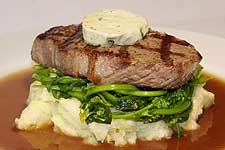 Each of the islands offer a spectrum of gastronomic ideas not likely found elsewhere in the Northwest. The unique and eclectic nature of the islands attracts experienced and well traveled chefs from far and wide. Expect fresh northwest seafood and international cuisine prepared with local organically grown fruits and vegetables. Browse food & dining on Lopez, Orcas, & San Juan.
Art lovers?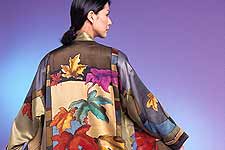 A hand-painted silk design from San Juan Silk.
Art aficionados will find no shortage of eclectic galleries, co-ops, workshops, and studio tours on each of the islands. Recently opened on San Juan Island is the Wescott Bay Institute Sculpture Park. Sculptures include works in bronze, stone, wood, metal, glass, and ceramics by noted artists of the islands and the Pacific Northwest. On Orcas Island the Lambiel Museum has evolved into a serious body of work inspired by the San Juan Islands. Guided tours through the museums mixed-media exhibits are available by appointment only. Browse the arts on Lopez, Orcas, & San Juan.
Historians?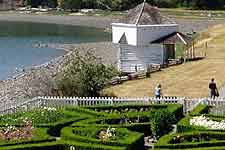 British Camp, San Juan Island Nationalist Park. Photo: Chris Light.
History buffs will find the early colonial history and its major actors influences deeply interconnected with Native American, Hudson Bay Company, and British relations. The smuggling of Chinese immigrants, the story of the Lime Kiln's, Robert Moran's influence on early environmentalism, and the military build up of American and British forces on either end of San Juan Island are just a few starting points from which to dive into the rich history of the San Juan Islands. Browse historic activities on Lopez, Orcas, & San Juan.
Tags: San Juan Island, Orcas Island, Lopez Island, bed and breakfasts, hotels, resorts, vacation rentals,San Wan Islands